Partnerships
Partner With Us
Connect your business with Ria's and unlock new opportunities for your clients.  
With Ria's secure money transfer system, you can enable your customers to send or receive money transfers at the touch of a button. Our solutions are simple, secure and come with the backing of a trusted company with more than 30 years' experience. Let us take care of powering your money transfer service while you earn attractive commissions. 
Digital Partnerships
If you have an online business, we offer a global payment solution fully integrated into your web or mobile platform.


• In the sending side, we enable your online platforms for your customers to send money. 

• We can adapt to any requirement needed to fully customize the user experience.

• Funds can be deposited into a bank account or can be made available for the beneficiary to collect the cash in a Ria agent location. 
Atlético de Madrid Sponsorship
Why do 3.5 billion people around the world watch football? Some might say it's because of the athletes, the skill, or the entertainment. But as any football fan will tell you, it's not about any of that.

It's about passion, the thrill of one player kicking the ball and millions of people scoring with them. 

It's about connection, feeling close to every fan on the planet as soon as they play your team's anthem. 

Football, like the money transfer industry, is fast-moving and ever-changing, but, as is the case with Atlético de Madrid, we relish in the challenge and are driven by our constant pursuit of excellence. 

Since 2019, Ria has partnered with Atlético de Madrid - 10-time champion of Spain's premier professional soccer league - to create engaging events and digital content for Atlético fans and customers, highlighting shared values like hard work, passion and humility. Ria-branded jerseys will be used by the club's first teams for all domestic competitions until 2023.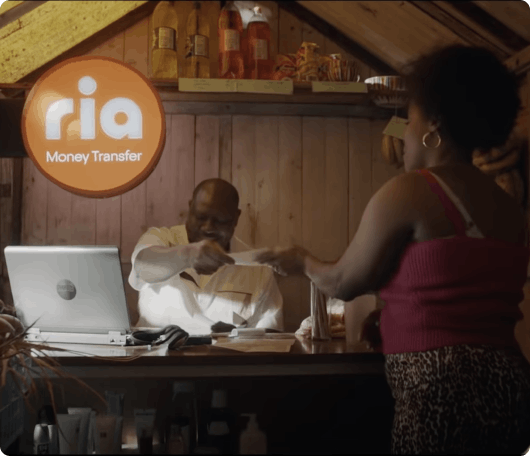 Ria Dreamers
Wizarchy, a Dominican barber living in Madrid, believes that dreams can come true if you work hard and believe in yourself. In this first installment of our "Dreamers" campaign, in collaboration with Atlético de Madrid, we bring you the true story of an immigrant who became the preferred barber of many Atleti players over the years.
Ria Dreamers II
There is a story behind every customer, and it is our honor to share their journey. At Ria, we open ways for a better everyday life. This time around, we wanted to highlight the value of our customers' drive and resilience. People who are motivated and hardworking, doing their best to embrace change for a better future no matter where they are in the world.
Ria Financial Services. © 2023 Continental Exchange Solutions, Inc. All rights reserved.